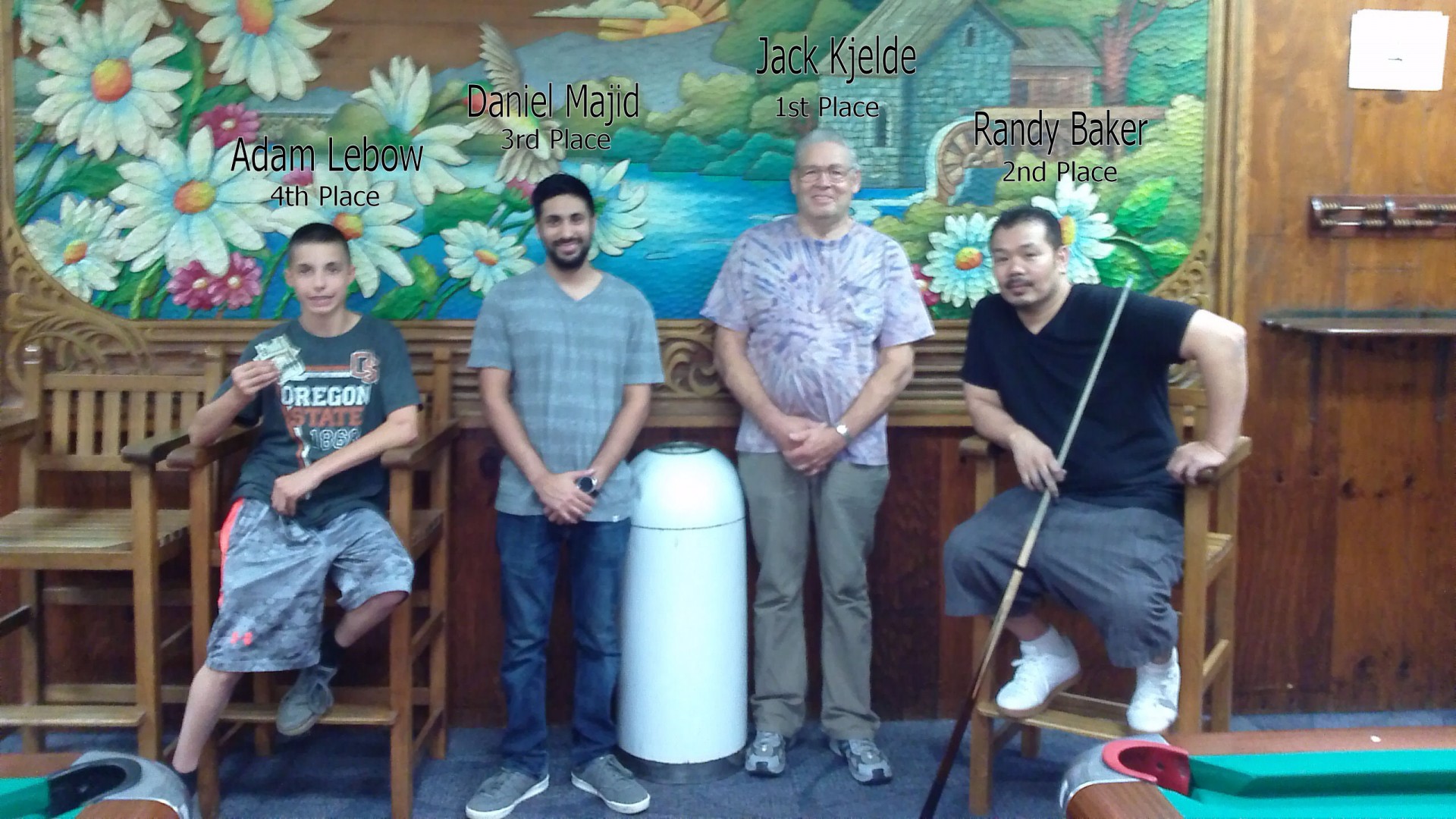 Win Jim's Money June 11th Results
The June edition of The Cue Ball's "Win Jim's Money" 9 Ball Handicapped Tournament was held on Saturday, June 11, 2016. A field of 32 players showed up to compete for their portion of the $520 purse.
In the fight for the 4th place prize of $ 80, Adam Lebow faced a titan, Randy Baker in a 9 – 2 race. Baker was faced with the challenge of not making any mistakes against a much lower ranked player who had been hot all day, playing above his skill level. Adam Lebow, all of 13 years old was facing a serious case of nerves, as we can all empathize with. Lebow, as stated, is the youngest, highest placing player, The Cue Ball has seen in quite some time. Baker, the heartless competitor he is, didn't open the door for Lebow an inch. Lebow played some awesome shots, but fell to the new overall points leader, 9 zip.
Baker then faced off against a relative newcomer to the tournament, Daniel Majid. The race was 7 – 3. Baker had reeled off 9 straight against Lebow, and continued his streak against Majid. Majid was never able to mount a challenge, and succumbed to Baker 7 zip. Majid, for his efforts, took 3rd place and $80. Nice showing for the new guy.
In the match for 1st place, Baker face Jack Kjelde, who had ripped through his bracket undefeated. Kjelde had played well all day, but faced off against an opponent who had won 17 straight games. Bakers streak ended, and ended poorly. Kjelde tore Baker up, reversing the tables. In a 7 – 3 race, Baker was smoked, 3 zip. He took 2nd place and his $120 prize. Jack Kjelde had won the tournament in a dominating fashion and is enjoying his 1st place prize of $200.
The next "Win Jim's Money' Tournament is scheduled for July 9th 2016. You can't win if you don't play. Be HERE!