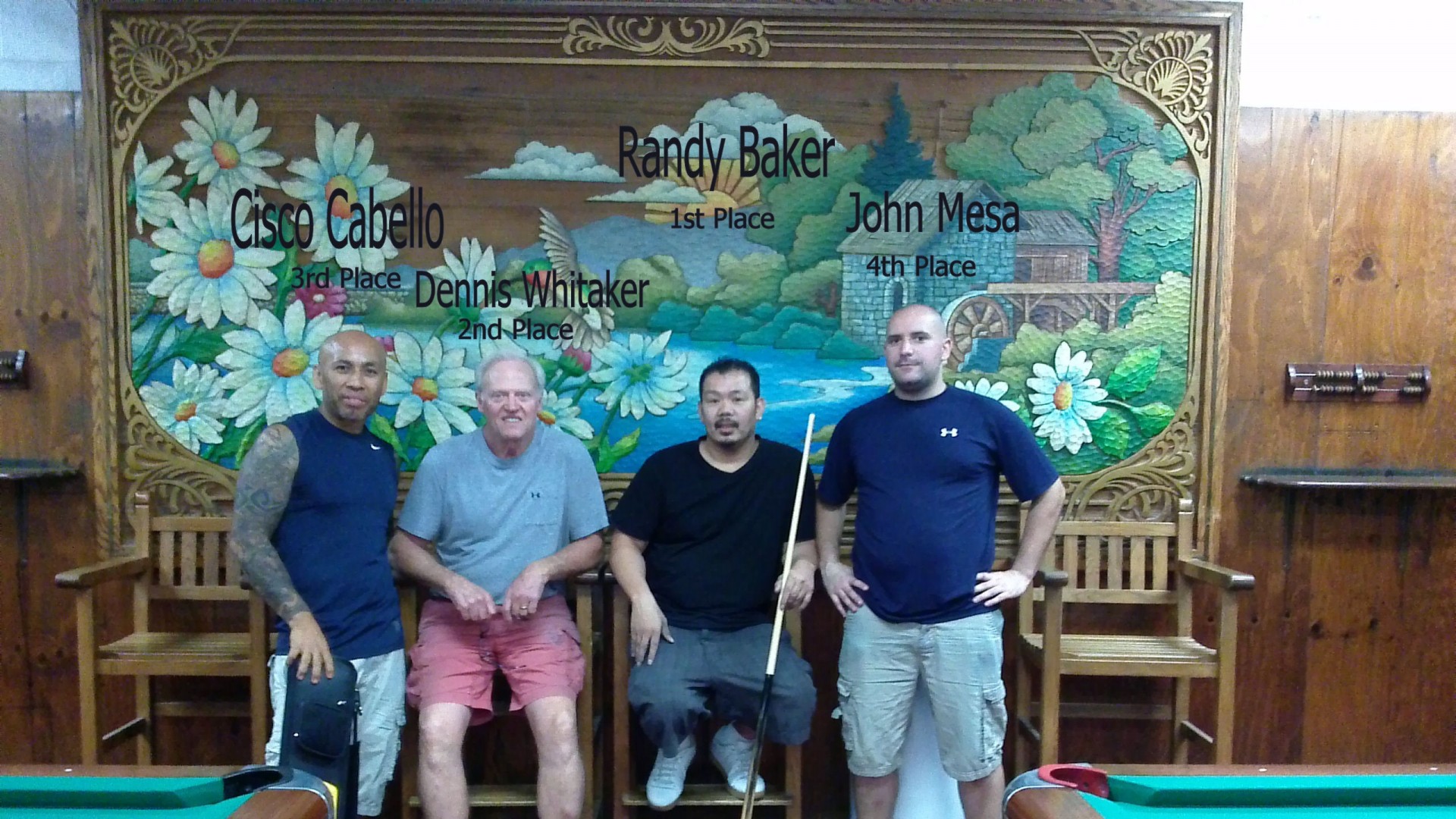 Win Jim's Money August 13, 2016 Results
The August Edition of Win Jim's Money Tournament at the Cue Ball in Salem was held on the Saturday the 13th. We had an August crowd of 24 participants fighting for their share of the $440 prize fund.
In the loser's bracket, tournament regulars slugged it out. Jon Mesa faced off for the 4th place prize of $50 with Randy Baker. Mesa played Baker tough, taking the match to the hill. Mesa was then victimized by an unfortunate table idiosyncrasy, with the ball kicking back out of the pocket. Baker, praising the pool Gods, happily sunk the duck and claimed the match. Mesa was none too happy with his misfortune. 4th place and $40 seemed a poor consolation prize.
Baker then met up with Cisco Cabello , both of whom have experienced success in this event. They had met up earlier in the tourney, with Baker kicking Cabello to the loser's bracket. Baker repeated the favor, this time kicking Cabello out of the tourney altogether. Cisco ended up with 3rd place and $ 70.
Dennis Whitaker had won his way to the point. As is usual for the point, it was a while before the loser's bracket played out. His match with Baker was a 8 – 4 race with Baker having to win 8 to force a playoff. Baker was all business, not allowing Whitaker to gain any momentum. Baker blitzed Whitaker twice 8 – 1, claiming 1st Place and $ 180. Whitaker accepted his 2nd place finish and took home his $110 prize.
Our next tournament is Saturday, September 10, 2016. Registration at 9:30 and matches start at 10AM. Stake your claim as a pool player and BE HERE!